Rekha Dixit, Mandira Nayar,
theweek.in
, June 1, 2029; on Swaraj's exist as Foreign Minister,
see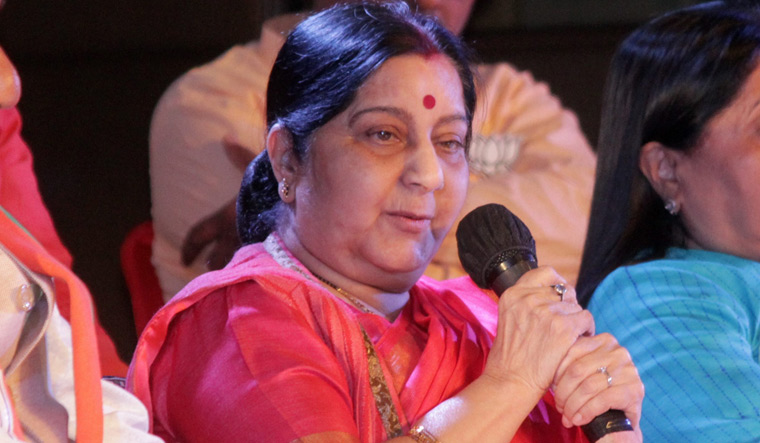 The diminutive leader leaves behind very big shoes to fill in (image from article)
Indian diplomats in overseas missions had taken to sleeping with their cellphones switched on. Sushma Swaraj, the former external affairs minister (EAM), had the habit of calling—regardless of the time difference—if she got a tweet or heard that an Indian was in distress. Overnight, the ministry of external affairs (MEA), which had earlier left public diplomacy [JB emphasis] to the ministry of overseas Indian affairs (MOIA), had to become much more hands on. The MOIA, not surprisingly, was soon dissolved and subsumed by the MEA. "I do not sleep. I do not let Indian envoys sleep,'' quipped Swaraj at a press conference once. But it was more than just a light-hearted remark. It was the way she worked. And it will be this personalised stamp of diplomacy which will be missed at the ministry, missions, and international interactions.
There were no interviews for the press. But she was
available to the aam Indian
, even during the times of her illness. Swaraj once said: "We have worked to integrate people's policy into the foreign policy... Ask those Indians who are stuck in foreign lands." This has been one of her biggest achievements, the transformation of a ministry that so far remained focused on diplomacy—and viewed as aloof—to become more people oriented.
Swaraj became the patron saint of the stranded Indian
. It was her efforts which brought back the deaf-mute Gita from Pakistan, and later, Uzma, too, who escaped a bad marriage and captivity. Then there was Gurpreet, the victim of an abusive marriage, who found herself in a German refugee camp. Gurpreet reached out to the minister over social media, and was soon brought home. While these women became Hindistan ki betiyaan, Swaraj, morphed into the benevolent Bharat Mata herself.
It helped that Prime Minister Narendra Modi's vision included the non-resident Indian. The Madison Garden event had proven that he had a rockstar image. The NRI was no longer distant. He was the loudest cheerleader of the Modi government.
But more than just a Swaraj idea, the muscular Indian government has been at the heart of the Modi doctrine.
"Indians abroad are a huge asset for the country, whether in the economy, in image or in influence,'' said Swaraj at a book release function in 2016. She spent the rest of her term, ensuring that Indians abroad feel this importance.
"Another method of expressing that is to give them the comfort that the government is always there for them. That is the least we can do for our nationals who do so much for us,'' she said.
Turning social networking into a power tool, Swaraj quickly won hearts and minds.
She tweeted on her own. And despite all the rescue and crisis management she affected over her tweets, she always had time for a joke. Once, someone asked her whether it was safe to travel to Bali, and she tweeted, tongue in cheek, that she would consult the volcano and revert.
One of her early tweets to go viral was in response to the disgruntled owner of a Samsung refrigerator. She tweeted: "Brother, I cannot help you in matters of refrigerator. I am very busy with human beings in distress."
It was no surprise that she had one of the largest followings among politicians on social media. In a country where foreign policy is dominated by the prime minister, Swaraj brought something special to the post of EAM.
It wasn't only the stranded Indian. Swaraj facilitated travel permits to many who sought medical visas.
In one of her last interventions, she sought information on why Friederike Irina Bruning's visa had been denied. Bruning, a Padma awardee, was threatening to return her award. Swaraj's outreach legacy will continue, largely because she institutionalised it.
In 2016, the MEA generated Twitter seva service to ensure that no one is left out.
The application tracks the concerns or complaints and redirects it to the official concerned who handles the grievance or the issue concerned, and responds either on Twitter or offline.
The first tweet by the new foreign minister, S. Jaishankar, assured all Indians, that "Team MEAIndia'' will "continue to be at your service 24X7''.
And in true form, Jaishankar, appreciated the quick action the embassy in Riyadh that had reached out to a distressed Indian worker who needed to go back home urgently.
Indian diplomacy will miss her
warmth and wit
. She knew the names of everyone who worked under her. She was accessible. As one official quipped, "We know we will get an appointment if we ask."
More than her bonds within the ministry, Swaraj, who had worked for years in Parliament and was skilled at building bridges with the opposition, will be missed by her peers in other countries. On first-name terms with most leaders, she enjoyed a great rapport with them. She refers to herself and John Kerry, the then US secretary of state, as the long and short of diplomacy and is believed to be the only one who could give Wang Yi, the Chinese foreign minister, a 'talking to', sugar-coated of course.
Once she told KPS Oli Sharma, prime minister of Nepal, that India was the older brother in the neighbourhood, no doubt. But India was more the caring elder brother or bade bhaiya in the relationship, which was very different from the western concept of the bullying Big Brother. As the older sibling, India had the right and responsibility to care for the younger ones. Her successor could take a leaf out her her page in smoothening sharp edges of relationships.
Despite failing health, Swaraj would take personal interest in everything, even the arrangements for parties hosted by her.
She celebrated International Women's Day in a big way, inviting women diplomats, government officers and women in media to be part of it.
She would herself oversee even the decor and menu. And because she is vegetarian, she'd always ask the guests whether the non-vegetarian fare was up to the mark. It was the one thing she didn't decide.
The diminutive leader leaves behind very big shoes to fill in.