uscpublicdiplomacy.org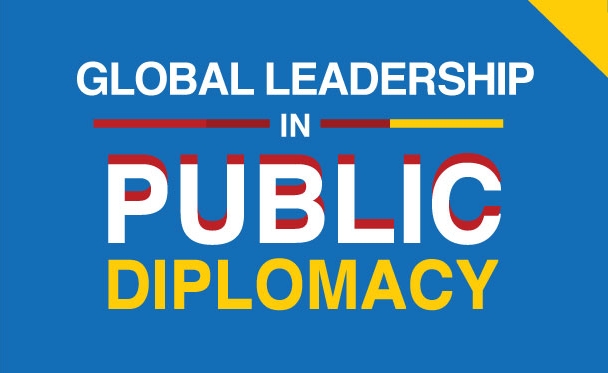 CPD Forum: Global Leadership in Public Diplomacy
CPD Forum on Public Diplomacy
Exactly 50 years ago, distinguished American diplomat Edmund Gullion coined the term "public diplomacy" to specifically denote coordinated governmental engagement with foreign publics. Since then, the concept of public diplomacy has become broadened and more expansive.
Established in 2003 to serve as a leading resource for public diplomacy scholars and practitioners, the
USC Center on Public Diplomacy
has continued to contribute significantly through its research, analysis, training and public programming to discussions about the future of this ever-evolving, increasingly relevant form of global engagement.
The Center is pleased to host a summit, "

Global Leadership in Public Diplomacy,

" in Washington DC at the

United States Institute of Peace from 8:30am to 1:00pm.
Panels at the forum will include:
Advancing International Advocacy in the Digital Age
Cultural Diplomacy: What Next?
Bridging the Study-Practice Gap
Next Frontiers of Public Diplomacy: Technology and Talent
Special remarks and a conversation with:
RICHARD STENGEL
U.S. Under Secretary of State for Public Diplomacy and Public Affairs
Participants include:
HOWARD BERMAN
U.S. House of Representatives [D-CA, 1983-2013]
U.S. Advisory Commission on Public Diplomacy
JENNIFER CLINTON
President and CEO
Global Ties U.S.
Professor and Director,
Master of Public Diplomacy Program
University of Southern California
ALEJANDRO ESTIVILL
Deputy Chief of Mission
Embassy of Mexico to the United States
KATHY R. FITZPATRICK
Senior Associate Dean, School of Communication
American University
SHANNON N. GREEN
Senior Fellow and Co-director, Human Rights Initiative
Center for Strategic and International Studies
MATT HIGGINSON
Politics, Government and Advocacy Lead
Medium
SARAH J. HILLYER
Director, Center for Sport, Peace and Society
University of Tennessee
ALEXANDER HOWARD
Senior Editor for Technology and Society
The Huffington Post
MEL LEVINE
U.S. House of Representatives [D-CA, 1983-1993]
Chair, CPD Advisory Board
KRISTIN LORD
President & CEO
IREX
VIET THANH NGUYEN
Professor, Scholar, and Writer
University of Southern California
MARTIN PERSCHLER
Program Director, U.S. Ambassadors Fund for Cultural Preservation
U.S. Department of State
PHILIP SEIB
Vice Dean, Annenberg School for Communication and Journalism
University of Southern California
JED SHEIN
Digital Director
Embassy of Israel to the United States
Director,
USC Center on Public Diplomacy
University of Southern California
RICHARD WIKE
Director of Global Attitudes Research
Pew Research Center
ERNEST J. WILSON III
Dean and Walter Annenberg Chair in Communication
University of Southern California
More speakers to come
RSVP is required for this event.
Partners include:

When
Wednesday, October 14, 2015 - 8:30am