BC,
baltic-course.com
On 27 September, during the 70th session of the United Nations General Assembly in New York, the Foreign Minister of Latvia, Edgars Rinkevics, met with the United States Under Secretary of State for Public Diplomacy and Public Affairs, Richard Stengel, to discuss the matters of strategic communications, informed BC the Latvian MFA.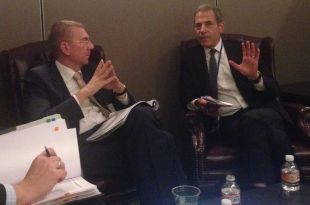 Photo: flickr.com
Edgars Rinkevics thanked Richard Stengel for his personal support and engagement with strategic communication issues in Latvia and the Baltic States. The Minister said that, when reinforcing strategic communications in the region, Latvia will be drawing on practical experience of the United States in this field.
The Latvian Foreign Minister and the Under Secretary of State discussed the launching of the NATO Strategic Communications Centre of Excellence. The Minister encouraged a continued active involvement of the United States in the Centre's work. A new initiative on the establishment of a Media Excellence Centre in Riga was also discussed.
The Media Excellence Centre would be oriented toward development of journalistic skills and media quality.
The Minister emphasised that such a Centre should be a platform built by journalists themselves, and by the media and non-governmental organisations, so as to foster an independent media environment to raise the professional standards and quality of journalism in the Baltic States and the Eastern Partnership countries.