stopfake.org
Stories in the 'Context" section are not fakes. We publish them in order to provide greater insight for our readers about the techniques, methods and practices used by the Russian government in its information war.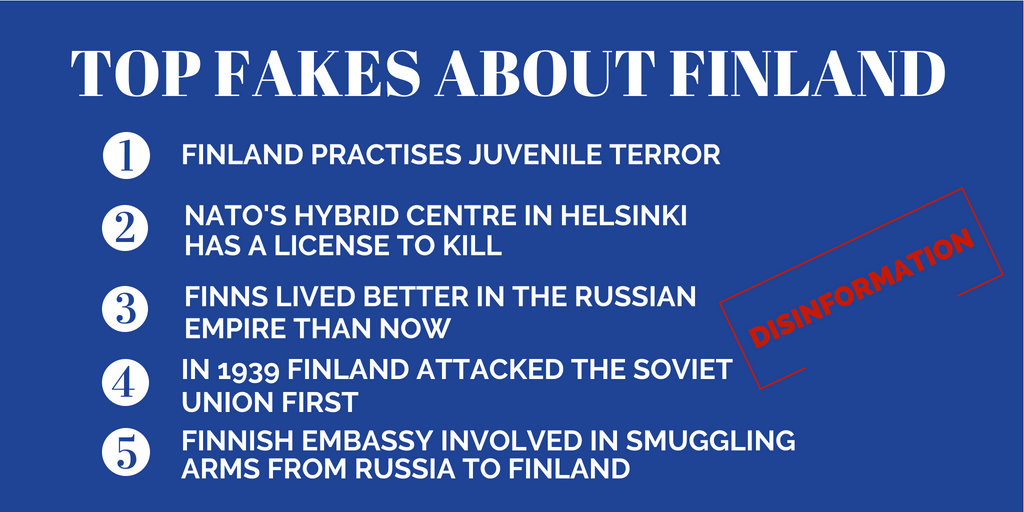 Excerpt:
"We are at the Finnish Gestapo. Russia, help us." "Finnish government's policy against Russian kids – genocide or fascism?" And "Finland – a concentration camp for kids".
These headlines

are examples of Russia's years-long, coordinated and persistent disinformation campaign targeting Finland. And this is a story of how Russia has over the years developed its capacity in influence operations, creating campaigns that artificially generate narratives to manipulate public opinion, and using a vast variety of channels, tools and policy instruments to achieve its goals.
Finland, an EU country and Russia's neighbour with a 5,5 million population, is usually almost absent from the agenda of the Russian state controlled TV channels. Therefore, the peaks in the visibility are easy to detect. ...
Building up defence
What has been the Finnish response to this and other disinformation campaigns that have now a stable position in Russia's toolkit of influencing abroad?
It has been a combination of proactive public diplomacy [JB emphasis] and communication, relying on international agreements such as the Hague Convention, rejecting the idea to set up a bilateral commission, and treating the issue as part of the daily work of the local officials and experts, thus avoiding politicising it. Finland has reached out to reliable media in Russia and organised visits for the journalists to Finland, communicating the facts of the Finnish childcare system in Russian and stepping up the capacity to do so immediately when a new campaign starts.
And in 2014 Finland

set up a network of government officials to address influence operations and started training officials. In 2016, the European Centre of Excellence for Countering Hybrid Threats (Hybrid CoE), open to EU member states and NATO allies, was established in Helsinki. This spring Finland appointed its first Ambassador for Hybrid Affairs.
The story of Russia's disinformation campaign around the child disputes has revealed some of the mechanisms behind the spread of disinformation, thus in the end resulting in more awareness of pro-Kremlin disinformation both among journalists and the general public in Finland.
Meanwhile in Russia

, according to a poll conducted by the Russian independent pollster Levada for the Finnish Foreign Ministry in 2017, 68 % of Russians describe their attitude towards Finland as "good", the first things that come to their mind being sauna, Nordic countries, Helsinki, nature, high living standards and the welfare state.
55 percent of respondents had never heard of the child custody cases regarding Finland.
But 10 percent had heard a lot about these problems, and 26 percent had heard something but couldn't remember any details.
So is 36 % a lot?
Overall these figures indicate that the disinformation campaign has not had a definitive role when Russians form their views about Finland. But when you put the figures into the context – when Finland in general has very little visibility on Russian TV, and when the topic would be non-existent were it not for disinformation – 36 % of Russians over the age of 14 years actually equates to 43 million people. That is quite a lot of people to be, potentially, basing their opinions about Finland on disinformation.