dailysabah.com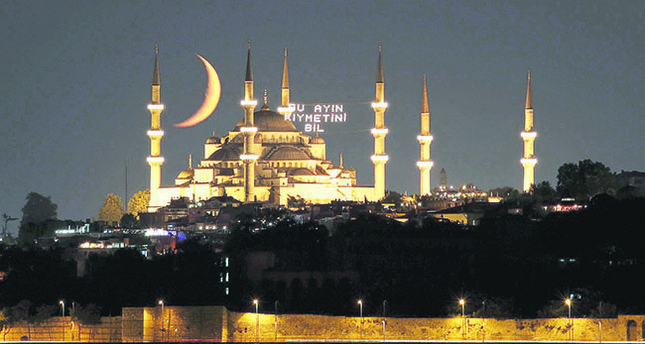 While the Islamic holy month of Ramadan is celebrated around the world, to some it can prove quite disconcerting to experience it away from the comforts and traditions of home
For the thousands of African students studying in Turkish cities such as Ankara, Istanbul and İzmir, there are differences in the way the month is marked in Turkey.
"Observing and experiencing the holy month of Ramadan in Turkey is different from that of my home country," Mayada Kamal Eldeen, 37, a doctoral student in political science at Yıldız Technical University in Istanbul, said. Eldeen, who has been in Turkey for four years, added: "We feel Ramadan deeply in Sudan."
Despite feeling their absence from home, most overseas students enjoy comparing the different customs in Turkey with those from home. "At home everybody fasts and restaurants do not serve," Eldeen told Anadolu Agency (AA). "All families with children break their fast, not at home but in neighborhoods. Streets are full of people coming around a table laid on the ground. "The tarawih prayer is also attended by a large group of women, men and children together."
Kasim Mohammed, 26, has experienced a more relaxed attitude to fasting during Ramadan in Turkey. "The way I see here is totally different," Mohammed, a Somali who studies energy systems engineering at Kayseri's Erciyes University, said. "In Turkey people are free to fast, you can see them smoking in the street and restaurants are open, but in Somalia you will not see restaurants serving," he said.
The length of the daily fast in Turkey has struck Ugandan Aboubakar Kudi Byango, 32, an economics doctoral student at Erciyes University. "In Uganda, we fast for 13 hours only whereas here, we fast for 17 hours. It's hard a bit," he said.
Chadian Islamic law student Khadidja Alhadji Aji, 27, who has been in Istanbul for three years, describes the moment of iftar, the fast-breaking evening meal, as memorable. "It is completely different from my Ramadan days at home," he told AA. "Seventeen hours observing fast is a new experience for me, and also a few minutes before iftar is an adorable moment for me, it is a blessing." Aji has been drawn to the richness of the traditional iftar menus in Turkey with soup, rice, meat pastries and pide, which is a kind of a symbol of Ramadan tables in Turkey.
Some others are fond of the events organized around Ramadan and the decorations in squares and along streets. "Decorations in preparation for the month of Ramadan; perhaps this is what I may never forget about Turkey," Byango, the Ugandan student, said. "Just before fasting, the city authorities work day and night to beautify the city in every corner. Beautiful flowers are planted in strategic areas such as roundabouts, beautiful lights are erected onto electric poles all over the city. I swear I have never seen this anywhere in my entire life, so beautiful."
Traditional concerts and street shows such as shadow puppetry are held in many city and town squares. Some municipalities organize mass iftar meals.
Yousouf Ibrahim Djalal, 22, a computer-engineering student at Erciyes, praised the readiness and organization of public bodies and charities during Ramadan.
Despite certain differences, most African students speak on the hospitality they have found in Turkey.
Rwandan international relations student Ramazani Hategekimana, 23, said: "Turkey is a Muslim country. So I feel like I am at home. Maliki Moustapha, 28, from Togo, added: "We are always invited by organizations, Turkish families and others for breakfast and other special Ramadan events. That makes us feel at home."
Mohammed also praised the friendship and hospitality of locals. "You may get invitations from local families and friends for iftar," he said. "But in Somalia, it is not so popular to eat with strangers."
In Istanbul, Eldeen enjoys the mass street iftars throughout the city, which give people the chance to gather and chat, instilling a sense of belonging. "I have never experienced such a sensibility in any country I have been to for education other than Turkey," she said.
The Prime Ministry Presidency of Turks Abroad and Related Communities (YTB) scholarship program aims to turn Turkey into an attractive hub for students from around the globe. It has seen a rising number of students who applied for the scholarship this year, with more than 155,000 students from 182 countries. Out of the 95,000 students eligible for a scholarship, 5,000 students were granted one. In 2013, 56,000 students applied for the scholarship, which offers a monthly stipend varying between $250 and $900, free accommodation, social security benefits and Turkish language education as well as exemption from tuition fees. Turkey allocated $96 million for government scholarship programs last year.
The program is part of Turkey's soft power efforts to expand its clout over public diplomacy. Applicants hail from every part of the world, from Denmark to St. Kitts and Nevis in the Caribbean. Medicine and engineering are among the most popular majors for foreign students along with international relations and economics. In addition to those who benefit from the Turkey Scholarships, the country currently has some 60,000 students enrolled in its universities.