Zhenhua Lu, US correspondent,
scmp.com
A new Twitter account attributed to Cui Tiankai, the Chinese ambassador to the United States, was abruptly suspended after the embassy said it was fake and warned of legal action.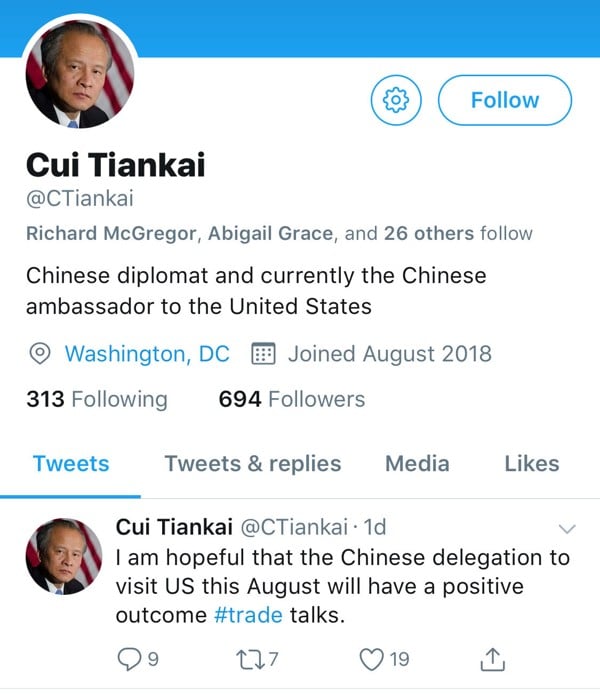 Image from article: A Twitter posting attributed to Cui. The Chinese government said the account was fake, and it has been suspended.
"Chinese Ambassador Cui Tiankai has never opened an account with Twitter," the embassy said in a statement on Sunday. "Any current Twitter accounts opened in the Ambassador's name or with his photo are fake."
The embassy added that it might "pursue legal actions against the counterfeiters".
The fake account was started last week with the handle @CTiankai and carried the ambassador's full name under his photo. It also included a profile biography saying: "Chinese diplomat and currently the Chinese ambassador to the United States", although it did not link to the embassy's website.
A screen shot of the account showed that in about one week it had attracted nearly 700 followers and included several general comments about US-China relations attributed to Cui.
An embassy spokeswoman told the South China Morning Post on Monday that "any unauthenticated accounts are all fake." The embassy declined to say whether its personnel or Cui himself asked Twitter to take down the account, which was suspended as of Monday.
No Chinese government officials have authenticated accounts on Twitter, which is blocked in China along with Facebook and other US social media platforms.
The latest tweet, dated on Friday, said: "I am hopeful that the Chinese delegation to visit US this August will have a positive outcome #trade talks", referring to the visit this week by a negotiating team headed by Commerce Vice-Minister Wang Shouwen aimed at restarting trade talks.
It will mark the first formal talks since June as the world's two largest economies try to end a trade war that began on July 6, when the US imposed a 25 per cent tax on US$34 billion of Chinese goods and Beijing retaliated with equivalent tariffs on US imports.
Negotiators are reportedly seeking a resolution before Chinese President Xi Jinping and his US counterpart, Donald Trump, take part in the G20 summit meetings beginning on November 30 in Argentina.
A second account under a different username, @AmbCuiTiankai, which was created in February 2016, has also been confirmed as fake by the Chinese embassy. The account publishes under Twitter's "protected" mode, meaning that tweets from the account can be seen only by its followers, which must be approved by the owner.
The Chinese embassy in Washington has an official authenticated Facebook account created in January this year as a part of its public diplomacy [JB emphasis] efforts.
The embassy said on the Facebook account that it "features information about China and the China-US relationship" and is "committed to promoting friendship and cooperation between our two countries".
A Twitter spokesman said in an email that the company did not comment on "individual accounts for privacy and security reasons".
This article appeared in the South China Morning Post print edition as: Fake Twitter account for envoy to US suspended