Emma Graham-Harrison,
The Guardian
; article contains a video, "Blasts heard in Kabul during Afghan president's Eid speech"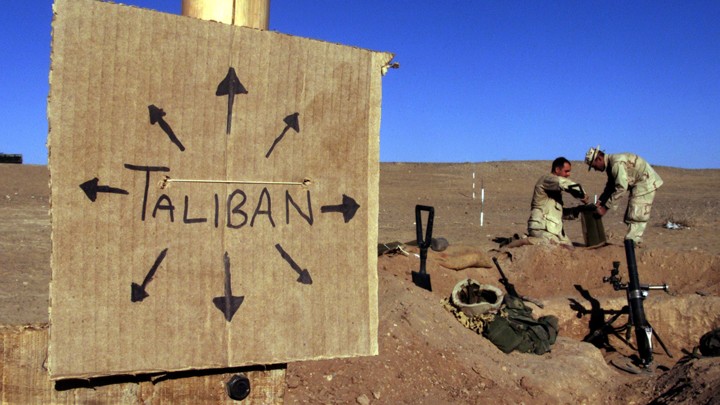 image from, under the headline "Is Russia Really Arming the Taliban?"
Excerpt:
The Afghan Taliban will travel to Moscow for peace talks next month in a high-profile embrace of public diplomacy [JB emphasis]that will be a landmark for the group and their Russian hosts after 17 years of war.

"The first reaction was positive, they are planning to take part in the meeting," the Russian foreign minister, Sergey Lavrov, said, adding that he hoped for productive negotiations at the talks, which will bring together a dozen groups including regional heavyweights China, Iran and Pakistan, starting on 4 September.

The Taliban did not officially comment on the reports from Moscow, but a senior member of the group confirmed to the Associated Press that they would send a delegation "for the sake of finding peace in Afghanistan".

The official said the group plans to send representatives to other countries in the region, including Pakistan and China, "to take them into confidence and address their concerns".



The talks in Moscow would mark the Taliban's first public participation in a regional forum since they were ousted from power in Afghanistan in the wake of the 9/11 attacks on America. They were invited to a previous round of talks in Russia last year but did not attend.



The talks will come after a wave of intense violence, but also in the wake of increased diplomatic outreach by the insurgent group and a series of peace overtures from the Afghan government.

A ceasefire in June, during the Eid holiday at the end of the month of Ramadan, showed huge public appetite for ending decades of war. It also showed the Taliban had command and control over thousands of militants scattered across the country.

President Ashraf Ghani, who made the first offer to halt fighting then, called for another break in hostilities for the Eid al-Adha holiday this week.

The Taliban have not responded formally and the centre of Kabul was hit by rockets on Tuesday as Ghani made a speech on peace. However, the Wall Street Journal reported that they planned to mark an unofficial truce.

The announcement from Moscow comes after a flurry of other diplomatic activity. In recent months the Taliban sent official delegations to Uzbekistan and Indonesia, and held talks with US diplomats in Qatar, where the militants' political wing has an unofficial base. ...



The militants have refused to negotiate with the Afghan government, which they denounce as a puppet, and insist they will only attempt to broker peace directly with Washington. The meeting in Moscow could offer a rare public platform for the Afghan government and senior Taliban leaders to interact directly.

...