Frank Fang,
Epoch Times
, November 28; original article contains links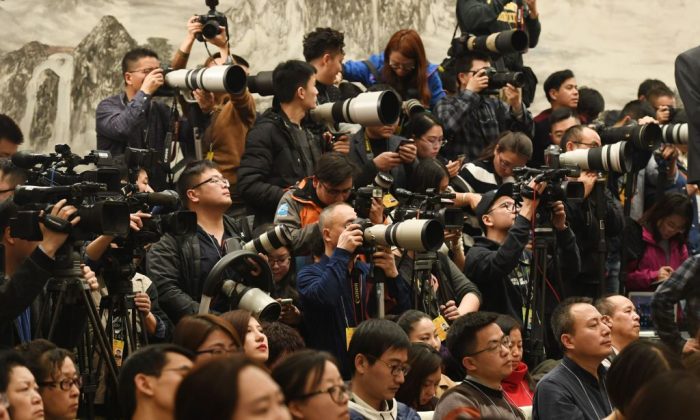 Image from article, with caption: Journalists crowd a press conference for the Chinese People's Political Consultative Conference in the Great Hall of the People in Beijing on March 2, 2018. (Greg Baker/AFP/Getty Images)
The program was launched to prop up Beijing's "One Belt, One Road" (OBOR, also known as Belt and Road) initiative announced in 2013. The program also responds to a call by Chinese leader Xi Jinping to "tell China's story better" to the world, according to the
Nov. 24 article
written by
Ananth Krishnan
, a former China correspondent with India's English-language news magazine India Today.
China's fellowship program trains journalists from two key OBOR regions to report positively on OBOR projects, which have been increasingly scrutinized for burdening countries with crippling debt.
China's foreign ministry and Chinese nonprofit organization China Public Diplomacy [JB emphasis] Association run the program. While in the program, foreign journalists work for three domestic press centers operated by the Chinese regime: the China Africa Press Center (CAPC), China South Asia Press Center, and the China Southeast Asia Press Center.
During their stay in China, the foreign journalists get the red-carpet treatment. They stay in apartments in the Jianguomen Diplomatic Compound, one of Beijing's high-end residential neighborhoods; receive a 5,000 yuan (about $720) monthly stipend; and get free tours twice a month to different provinces in China. Additionally, after taking language classes at a Chinese university, they receive a degree in international relations, according to the article.
The program comes with other privileges. These participating journalists get more prominent placement than other foreign media while covering major Communist Party political meetings, such as the annual session of China's rubber-stamp legislature, the National People's Congress.
Aside from trips to different parts of China, journalists have a two-month internship at different state-run media, such as Xinhua News Agency, China Daily, People's Daily, China Radio International, and China Global Television Network (CGTN), according to Khmer Times. CGTN is the international arm of China's state broadcaster CCTV.
However, the program has a very strict rule. These journalists cannot "undertake individual reporting trips unaccompanied by government minders," meaning they cannot report on "sensitive" issues such as human rights violations in Tibet and Xinjiang.
Beijing has carried out systematic persecution against
Uyghurs
in Xinjiang and
Tibetans
in Tibet. Human rights group estimate up to a million
Uyghur
Muslims have recently been rounded up and thrown into concentration camps, while the Tibetans face severe restrictions in practicing their religious faith and cultural traditions.
Participating journalists also cannot freely report on sovereignty issues in the South China Sea. They can only report on the South China Sea dispute based on daily briefings provided by Chinese foreign ministry officials—in other words, repeat Beijing's propaganda.
China has drawn criticism for its aggressive militarization in the region through building outposts on existing and artificial islands, in an effort to bolster its territorial claims.
The Print pointed out that there is often no clear application process for the program. Instead, it is the Chinese Embassy that invites particular journalists to participate.
In 2016, 28 African journalists from 27 African countries, including Nigeria, Kenya, Zambia, Mozambique, Angola, and Cameroon, took part in the program, according to the Chinese Communist Party's mouthpiece newspaper, People's Daily. It is not known how many journalists from Southeast Asia took part that year.
In 2017, 42 journalists from Africa and Southeast Asia took part, according to a March 2018 article by Cambodia's English-language newspaper
Khmer Times
.
This year, 46 foreign journalists from 33 countries, including Cambodia and the Philippines, joined the program, which will end in December.
It is not known if the 46 foreign journalists are the only ones participating this year. The municipal government of Beijing posted on its website that 29 media professionals from 28 African countries took part in this year's program.
Cedric Alviani, head of the East Asia bureau of the nonprofit Reporters Without Borders, said Beijing's effort to influence foreign journalists began well before China's foreign ministry launched its own fellowship program, according to a Nov. 26 article by Radio Free Asia. Beijing has also aggressively acquired shares of foreign media companies in the past year, he said.
XEWW
, a major Spanish-language radio station in Mexico, was purchased by H&H Group, a New York-based investment firm with ties to a pro-Beijing television network, in October this year. The purchase raised concerns about Beijing's propaganda being spread among Chinese communities in the United States, given that the radio station's coverage reaches into much of Southern California.