dod.defense.gov
;
see
also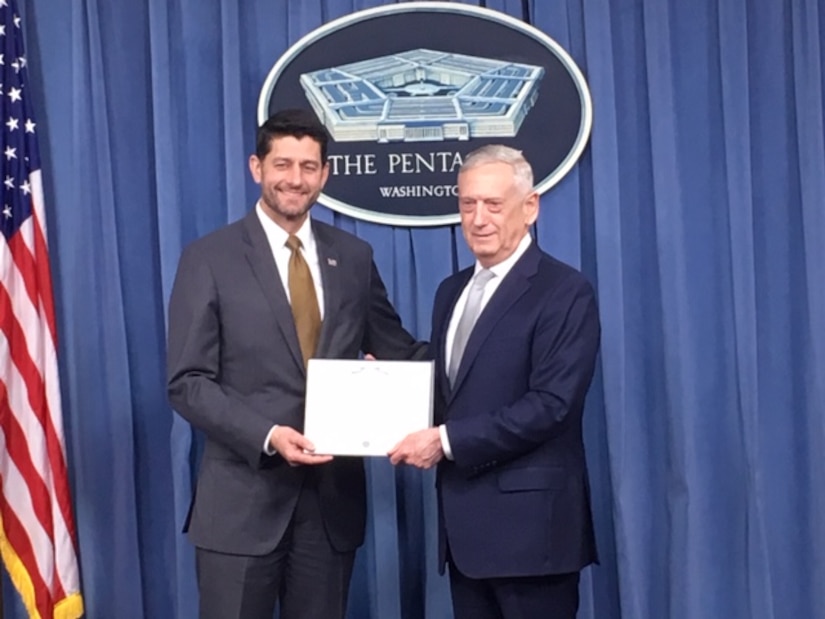 Excerpt:
STAFF: Good afternoon and welcome to today's ceremony in honor of House Speaker Paul Ryan. Please stand for the arrival of the official party.
SECRETARY OF DEFENSE JAMES N. MATTIS: Wow, that was some (inaudible) -- hi, (inaudible). Please everyone, grab a seat, don't want to get too formal here, please. (Laughter.)
Good to see you all. Can I talk? You OK? STAFF: Absolutely. (Laughter.)
SEC. MATTIS: I don't want to mess with the protocol here, you know? And where's the members of the press? Let's see, you've got to fess up -- there you are, all right, it's good to have you here, thank you. But Speaker Ryan and flag officers and secretaries and members of the press – for a moment I'll say I like you, how's that? (Laughter,)
Actually, we have a great press team over here, Mr. Speaker, they're the pros of Washington D.C. But I want to thank all of you for making time as we've bid what we call, I think CNO, fair winds and following seas in the service to our Speaker of the House.
He's a tried and true public servant and we all know that. Coming in about just months before we got hit here at the Pentagon for 9/11 -- a powerful thinker, a policy architect and I would just say to the members of Congress who are here, we look at the -- the people on Capitol Hill as our board of directors, as our overseers, obviously as our funders and we look at it as a collaboration. ...
Through his outstanding leadership on Capitol Hill, Speaker Ryan provided service of exceptional significance to the American people and to our department. He was instrumental in passing the NDAA for Fiscal Year 2018, and the John S. McCain National Defense Authorization Act for Fiscal Year 2019, and the necessary appropriations to increase defense spending.
Through personal and public diplomacy [JB emphasis], has been a staunch advocate for our indispensable NATO alliance. Recognizing its role in defending freedom and prosperity, Speaker Ryan advanced American leadership in the post-World War II international order. ...