By Hong Soon-do, Beijing correspondent, AsiaToday,
huffingtonpost.com
By Hong Soon-do, Beijing correspondent, AsiaToday - China and Cuba are friendly since both of them are socialist countries. They enjoy active exchanges in various fields, including the economy. Their friendly relationship has been confirmed recently. GBD (global commercial district) Center for Public Diplomacy and Culture Exchange (hereinafter referred to as the Center), a Chinese non-governmental public diplomacy organization in Beijing, has agreed on principle of cooperation for bilateral cultural exchange with Cuban Ministry of Culture. As a result, a program where Cuban art group pays a visit to Beijing and Chinese art group to Havana to perform, will soon be promoted.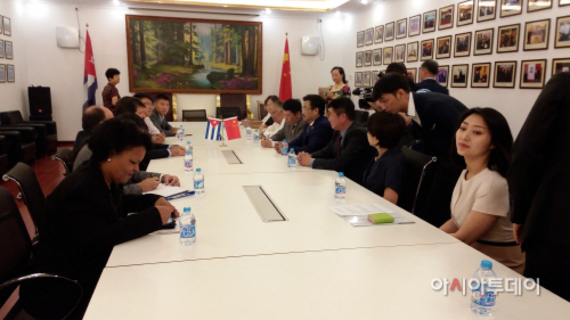 [Ma Zhenxuan (fourth to left), the Chairman of the Center, and Liu Zhong (right to chairman Ma), the Executive Chairman of the Center, met Julio Guzman and his delegation from Cuban Ministry of Culture to talk about bilateral cultural exchanges./ Photographed by Hong Soon-do]
According to a source from the Center on Saturday, the principle has been set up through a Fidel Castro portrait delivery ceremony held the previous day at the Center building in Beijing.
Ahead of the delivery ceremony, Chairman Ma Zhenxuan and Executive Chairman Liu Zhong met Cuban Vice Minister of Culture Julio Guzman and agreed on such principle.
Chairman Ma said, "Between China and Cuba, there is a clear connection called socialism. So far, we have maintained friendly relations as well. This relationship will continue to be firm. The mutual exchange of art group visits between the two countries is expected to strengthen the current relationship." Executive Chairman Liu Zhong said, "Cuba is one of the few friendly socialist countries of China. We should enhance mutual relations to help the two countries."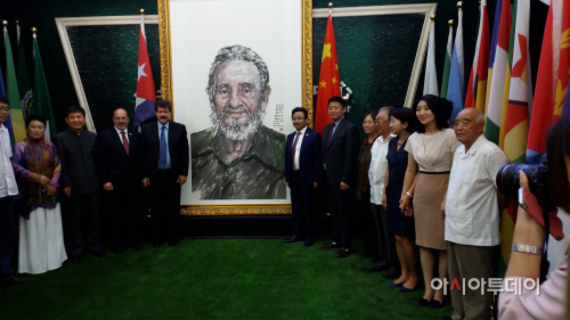 [Ma Zhenxuan (first to left), the Chairman of the Center, and Liu Zhong (next to Chairman Ma), the Executive Chairman of the Center, take a photo with Cuban Vice Minister of Culture Julio Guzman at the Fidel Castro portrait delivery ceremony./ Photographed by Hong Soon-do]
After the delivery, Vice Minister Guzman said, "We will deliver the portrait safely to great leader Castro. It will serve as a national treasure after a time."